Lunch Menu Dinner Menu Late Night Menu
View our new Takeaway Menu!
We have a new takeaway menu available Monday to Saturday 5.00pm - 8.00pm (last orders 7.30pm).
CLOSED Sunday
Food & Dining
The Royal Hotel's three non-smoking dining areas ensures there's something to suit everyone. We also offer great value bar meals in the Main Bar for those after a hearty burger, steak sandwhich or espresso coffee.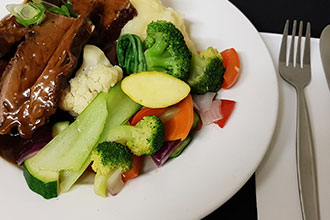 Lounge - Enjoy comfort all year round in the Royal Hotels lounge. With seating for over 50 people, lounge dining is ideal for a special family gathering or to watch your favourite sport and enjoy generous country style meals from a seasonal menu.
Courtyard - The roofed all weather courtyard makes the Royal Hotel's courtyard a great location for parties and functions. Seating up to 60 people or more for informal functions, the courtyard boasts a bricked open fireplace, an extensive gas heatstrip. You can even watch your favourite sports on the flat screen with Foxtel and Fox Sports.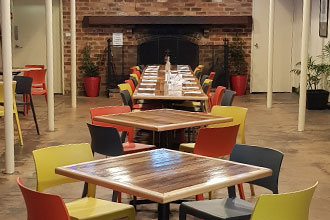 Beer Garden - A beautiful dining location during the warmer months, the Royal Hotel's Beer Garden offers rustic timber benches and a lawn area overlooking the hotel gardens and backs onto the Goulburn River. The two majestic 100 year old Jacaranda trees offer a magnificent backdrop all year round.
Our beer garden is also dog friendly!
The Royal Hotel Seymour is child friendly and a children's menu is available.
$12 Lunch Menu
The $12 lunch menu features frequently changing dishes.
---
Dinner Menu
Our specials menu changes weekly, featuring delicious meals of generous proportions that offer a variation to our main menu. Our wine list features a range of excellant local wines for you to enjoy!
We also a range of tea, coffee and hot drink options ready for you to enjoy after a delicious meal at The Royal Hotel Seymour, ask our friendly staff for a beverage menu.
We served all our meals with mashed potato or chips, vegetables or salad
Beef
300g & 600g Porterhouse and Scotch Fillet Steak - with a choice of gluten free sauces
22 hour slow cooked brisket - it can be eaten with a spoon it is so tender!
---
Seafood
Seafood Combo - battered fish, scallops and crumbed prawn cutlets with salt and pepper squid.
Pan Fried Fish – In a seasoned egg coating.
Beer Battered Fried Fish
---
Chicken
Chicken Stuffed with Camembert Cheese
Tender chicken schnitzels with your choice of sauce
Chicken souvlaki with Greek salad, pita bread and tzatziki
Chicken Parmigiana – with cheese and home made Napoli sauce.
---
Vegetarian
Vegetable filo parcel with tomato coulis
---
Royal Classics
Rissoles – with onion gravy.
Gourmet Sausages – with onion gravy.
Lambs Fry & Bacon
Roast of the Day – with all the trimmings.
Mixed Grill – a big hearty meal, a real pub meal favourite.
---
Kids Menu
12 years and under
Battered or Grilled Fish
Chicken Parma
Chicken Schnitzel
Chicken Nuggets
Grilled Chicken
Sausages
Spaghetti Bolognaise
Pizza
Kids meals come with a complimentary ice cream for dessert.
---
Late Night Menu
Pizzas
Available between 8.30pm till 10.00pm.
Eat in or take away
---
Use the booking enquiry form on this page to make your next dining booking or contact us to make a reservation.