Functions
We cater for functions, both large and small and our function menu features various platters of food, soup and dessert stations and carvery all at very reasonable prices - we can work with you to ensure that your special occasion is just that... Special.
Smaller Funtions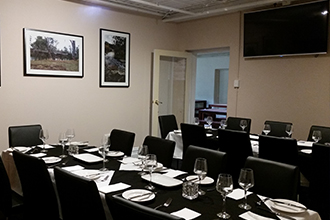 We have a new, small function/meeting/private dining room. It's called 'Eliza's Room' after Eliza Moody owned and ran the hotel for 45 years from 1910. It seats a maximum of 14 people depending on table configuration - we can offer specialised menus, table service (conditions apply) and the room has internet access, a 55 inch smart tv, heating and cooling.
Larger Functions
For larger functions, 'Moody's' our covered courtyard area is perfect. It's a bright and welcoming space and a wonderful setting for a family gathering or party.
We can do barbeques, carveries, spit roasts, cocktail platters, in fact we are very versatile and can do almost anything.
Use our online form to enquire about booking a function.